Common Ground Voices – an international choir
Common Ground Voices aims to form a circle of understanding in a world of differences between human beings. The common ground of music unites us and acts as a tool for fruitful dialogues based on creativity, compassion and respect.
(Statement formulated by the Common Ground Voices singers, Jerusalem, March 2017)
Common Ground Voices (CGV) is an international project choir initiated by the Eric Ericson International Choral Centre. It consists of equal groups of Palestinians, Israelis, and Swedes, under the artistic direction of Professor Dr André de Quadros (Boston University).
This is part of EIC's continuing Music & Humanity Initiative. CGV aims to generate a meaningful collaboration through music – to explore and create music of shared human values and aspirations – to contribute to community music as an exercise of non-violence, and to utilize music as a springboard for a meaningful discussion about social and political change, within the group as well as with the society in general. CGV will continue to gather regularly in different locations and keep developing the CGV concept.
Feb 2016
The Common Ground Voices gathered for the first time in Stockholm, Sweden, on the evening of February 7, 2016 and gave its first performance at the Eric Ericson Hall in the presence of the King and Queen of Sweden, only two days later.
It was a success! The performance received standing ovations. The residency also contained discussions within the group about the Israel-Palestine issue, in a respectful and fruitful way, finding and expanding the common ground.
EIC want to thank Peder Wallenberg and the Carpe Vitam Foundation for supporting this initial step of what we hope to be a long-term project.
March 2017
15-20 March 2017, Common Ground Voices ha dits second residency. Now at the very hearth of the conflict, Jerusalem, Israel.
All rehearsals were at the Magnificat Institute, housed in a monastery in old Jerusalem.
The days were filled with rehearsing the concert repertoire, creative work, group exercises and discussions.
Combatants for Peace
CGV were invited to a presentation by Combatants for Peace (https://cfpeace.org/) "We (Combatants for Peace) are a group of Palestinians and Israelis who have taken an active part in the cycle of violence in our region: Israeli soldiers serving in the IDF and Palestinians as combatants fighting to free their country, Palestine, from the Israeli occupation.
We – serving our peoples, raised weapons which we aimed at each other and saw each other only through gun sights – have established Combatants for Peace on the basis of non-violence principles."
Outreach activities
The Palestinians and half of the Swedes went to Bethlehem on the West Bank, Palestine (the Jewish Israelis're not supposed to visit the West Bank), while the rest of the group (Israelis and Swedes) visited a mental hospital and a retirement home in Jerusalem.
CGV visited the SIRA School, Swedish International Relief Association, a sweden-driven school in Bethlehem that gives Palestinian children in need access to special education. CGV sang for and with the children and the children had also prepared a song. Afterwards, the school principal Nadira Saed gave a thorough presentation of the school's important work.
Then on to Ghirass Cultural Centre which is an educational- culture- and leisure center for Palestinian children up to 16 years. Also in Bethlehem. André de Quadros, Rahib Haddad and Lena Gustavsson took turns to lead a workshop with the children. Here's a short clip..
Back in Jerusalem, the choir was divided into groups to deside how the songs would be intertwined and combined into a whole musical, creative and engaging performance.
The day before the concert, our two amazing musicians arrived: an Israeli saxophonist, Jonathan Hadas and a Palestinian old player, Wassim Odeh. Together with the choir's own Swedish percussionist / beatboxer / singer, Mattias Norgren, they formed a tight little band that really liked playing together.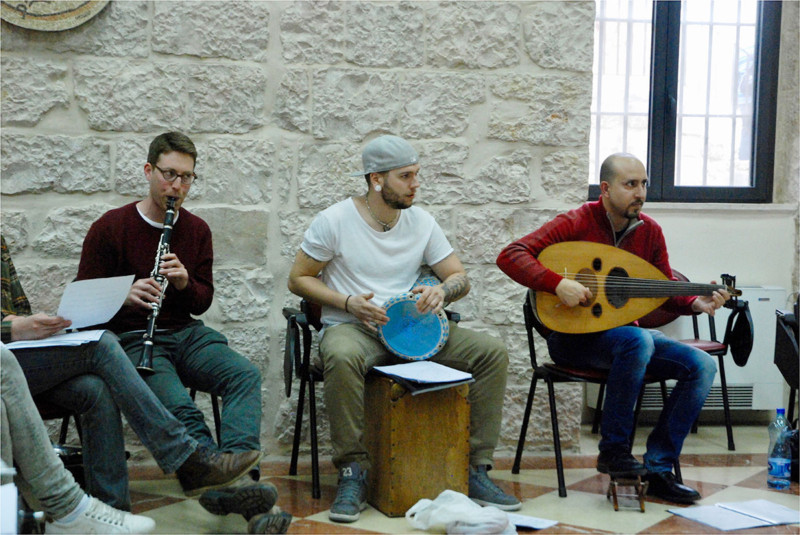 Common Ground Voices joined concert with Micah Hendler and his YMCA Jerusalem Youth Choir, consisting of Israeli and Palestinian youth. in the beautiful YMCA hotel lobby.
The crowd came and we had to bring extra chairs. The music flowed seamlessly without interruption under André de Quadro's magic leadership. André is a master of braiding the parts and sucking the audience into what he does. The audience was enthusiastic.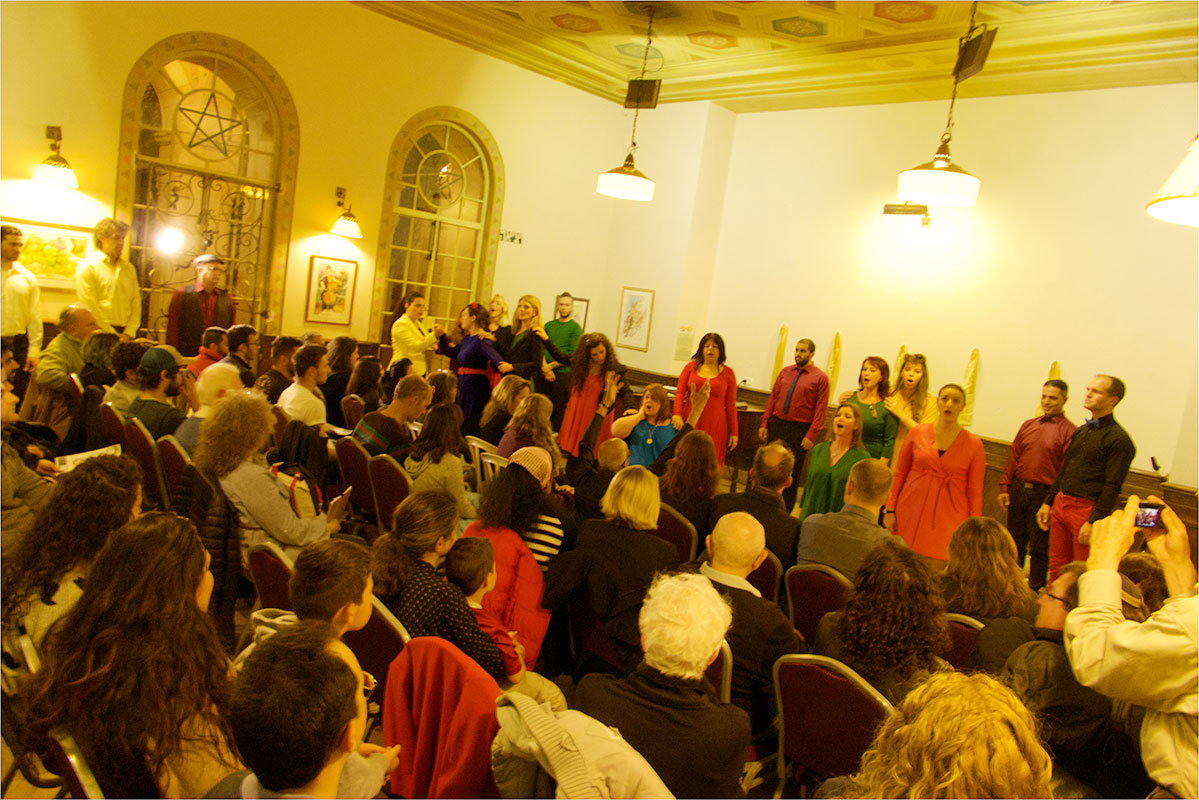 "About the thrilling concert from which I have just returned:
"Common Ground Voices" Ensemble, 19.3.2017, Ymca
Conductor – Andre de Quadros: Swedish, Arabic and Jewish singers create a beautiful thrilling evening, so deep, facinating and touching, penetrating mind and soul, irresistable! The outstanding attitude of prof. Andre de Quadros reminds us what is the simple, pure meaning of brotherhood; to feel, to look at the eyes of the person next to you, to give him the feeling that you see him and care about him, no matter what…
There are no barriers in this activity, just endless beauty of love and modesty.
It was so beautiful, full of inspiration, what you've done with my music. Thank you so much. I wish that one day, all the barriers between countries will fall down as prof. Andre de Quadros did when he didn't separate, but created a beautiful musical movement between different items, so to emerge fluently one from the other. In this way he created a huge ocean of sounds in which I was happily captured. It was a great thrilling event for me. Thank you all. Bravo!!!"
Sara Shoham, composer.
After the concert we invited to a public forum to get feedback on the concert and on the Common Ground Voices project.
Summary
We perceive that this second stage of Common Ground Voices made an even stronger impression than the first one, one reason being that we found ourselves in the middle of the conflict this time. This applies to the Swedes as well. In Jerusalem, one really has the conflict on the skin because of the proximity to the West Bank, the presence of a large number of Orthodox Jews and the religious and political symbolic values of Jerusalem.
CGV is truly a unique platform that invites to talks that are constructive and respectful. This mode of operation is far from the usual set of confrontation and locked positions. It works and it really builds bridges and brings people closer together.
…"I speak and translate arabic now more than ever before.
I have fostered new connections with Palestinians in Haifa and the surroundings including singing. CGV is about music but music is just the tool – not the goal."…
Yours truly,
Ori Batchko, CGV singer 2016
EIC wishes to thank Carl de Geer and Elisabeth Douglas who made this residency possible, giving us the possibility to take the project further and deeper.
This has made a difference in people's lives. It has inspired more people to want to join the group, but also opened up new ways to think about conflict and music.
We believe Common Ground Voices to be an important and urgent project and we are currently working to create a long-term continuation.
Anna Larsdotter Persson, Bo Nilsson
asagasa
In 2018, there were two residencies, March 13-19 in Jerusalem and May 18-23 in Germany. [...]
asagasa
Återträff med Common Ground Voices, CGV, i Israel och Palestina. Common Ground Voices, som består [...]