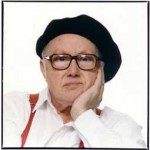 is a competition for young choir conductors from 20 to 32 years of age, the first of which was held in 2003 followed by 2006 and 2009.
The repertoire is chosen from western choral music, with particular focus on contemporary Swedish choral music.
The winner of the competition will be awarded 100,000 Swedish crowns and will also be invited to conduct the Swedish Radio Choir in a program to be decided.
This competition is arranged by The Eric Ericson International Choral Centre, Berwald Concert Hall, Uppsala University Choral Centre and The Royal Swedish Academy of Music in collaboration with The Swedish Radio Choir and The International Federation for Choral Music (IFCM). Eric Ericson Award 2016 is recommended by The European Choral Association – Europa Cantat
Eric Ericson (b. 1918 d. 2013)
For the great majority of choir conductors and choir singers throughout the world, Eric Ericson was the unsurpassed master in the field of choir conducting.
His entire career was devoted to choral music; his work has not only given great acclaim to his own choirs, but has significantly contributed to a breakthrough in establishing the status and merit of choral music making. Alongside with his work with his Chamber Choir (founded in 1945), he was the conductor and artistic director of the Swedish Radio Choir (1951–82) and Orphei Drängar (1951–91).
For many years Eric Ericson cut a legendary figure as professor in choir conducting at the Royal College of Music in Stockholm. Over the years, his international commitments steadily became more extensive. Not only did he appear as guest conductor with the major choirs of the world, but in a series of some ten master classes worldwide every year, he was appreciated as a particularly valued and stimulating teacher.
Over the years, he developed and refined choral sound both with early music, contemporary music and commissioned works. In February 2013 Eric Ericson passed away at 94 years of age.

Previous winners of the Eric Ericson Award
Peter Dijkstra, The Netherlands, 2003

Martina Batič, Slovenia, 2006

Kjetil Almenning, Norway, 2009